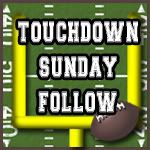 Welcome everyone from Touchdown Sunday. This week I have been featuring ideas for Tailgating. You can check out my
Chips & Dips
or
Tailgating planning
.
I absolutely love hot wings! I craved them daily when I was pregnant with my daughter. The spicier the better. I love to experiment with different types of wing sauce. This is my Spicy Peach sauce, which actually won a recipe contest.
Spicy Peach Glazed Chicken Wings
Chicken Wings (2-3 lbs.)
any kind of seasoning you prefer
Peach Glaze:
16 oz jar Peach preserves
1/4 cup mustard (yellow or dijon)
1/2 tsp of garlic powder
1 Tbs of Brown sugar
1 Tbs of Lemon Juice
1 tsp Louisiana Hot Sauce (I don't really measure the Louisiana Hot, I go by personal taste. Also you can use any hot sauce, I just prefer Louisiana Hot)
Season and bake chicken wings until done. For the sauce, put peach preserves in pot over medium heat until it melts. Add remaining ingredients and mix well, bring to a slow boil then remove from heat. You can toss the wings in the sauce or serve on the side for dipping.