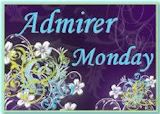 It is already Monday again!! I think I need 2 more days off. I am trying to get caught up. I have several new reviews that I am hoping to get posted today.
The Squeaky Grocery Cart is also hosting a
Terrific Tailgating Party
! My husband and I love to entertain and we love football, so we are really excited that football season is getting ready to start. I have already started sharing some great
Chip and Dip
recipes and an amazing
Spicy Peach Chicken Wing sauce.
I will be posting more Football and Tailgating Recipes on Thursday and Friday.
Now for the Monday Minute,
Who was your high school Sweet Heart?
I didn't really have a high school sweetheart.
What is your favorite vegetable to eat?
I love sweet potatoes. There is so much that you can do with them and they just taste good.
Do you plan on dressing up for Halloween, if yes, what do you have in mind?
We always dress up for Halloween. Most of the time, I end up wearing one of my Star Wars costumes. Kids love it, so we always get asked to come help with different events.
That is my husband and I.
Are you a reality show junkie? If so, what is your guilty pleasure?
My favorite reality show right now is
On the Road with Austin and Santino
on Lifetime. Pawn Stars and American Pickers on the History Channel.
What year did you graduate high school?
1993
Thanks for visiting!