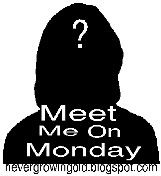 Questions:
1. What is your favorite kind of doughnut?
Krispy Kreme original glazed, preferably hot off the line. Those are really the only doughnuts I will eat.
2. How often do you pray?
I try to pray daily.
3. What is your favorite kind of music?
Right now, I really love Lady Gaga.
4. What do you order when you eat Chinese food?
This is a tough one because it depends on where I am ordering from. There are like 5 different Chinese restaurants that I like, but I have certain dishes at each one that I like. These are my favorites: Vegetable Egg Fu Young, Mongolian Beef, Lemon or Spicy Orange Chicken, Szechuan Tofu with vegetables, Sesame Tofu, Honey Chicken, Chang's Spicy Chicken from P.F. Changs, hot& sour soup, #37 Red Curry with steamed tofu, pineapple and carrots 2 stars.
If the dish isn't already spicy, I ask them to add some spice to it.
5. Would you rather snowboard in the winter or swim in the summer?
I would rather swim, I am not a fan of cold weather.