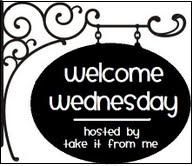 Welcome everyone visiting from Welcome Wednesday!
I currently have 3 giveaways going on right now! The first one is
win a wonderful plus sized top
from Alight.com. Win it for yourself or give it as a gift!
Win a bottle of
Ecover's All Purpose Cleaner
. This product is eco-friendly and has a great lemon scent!
And last but not least, 5 Winners will receive a
popcicle prize package
. This includes a coupon for popcicles and National Geographic's Big Book of Fun!
I posted a new recipe this week, it's
Citrus Marinaded Grilled Chicken Tacos
Please check out some of my other posts. Today's Wordless Wednesday post is the
Imperial Bowling League.
What has been your favorite summer movie?
If you haven't seen the newest craze in convenience food, please check out
"Could I offer you a Candwich?"
Let me know what you think about that!
Thanks for visiting!