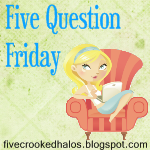 This post is linked to
My Little Life
1. Do you collect anything?
Yes, I collect too much! I collect toys from the 70's-80's. I collect mainly vintage Star Wars. But, I also have a lot of newer stuff too. Lots of R2-D2! I collect Barbies too. I have a lot from when I was little, a lot of collectible ones, and have started my little girl down that path as well. I collect other stuff but those are the biggest collections. Check out my
Geek Pride
post to see some of my favorite Star Wars items
2. Name 3 celebrities that you find good looking.

Johnny Depp has amazing eyes, Ewan McGregor has great eyes too and an accent. Harrison Ford (he is old school hot) There is something about that little scar on his chin. I dig it! Also, they all have this lop sided, pantie melting smile.
3. Do you have any scars? If so, what's the story behind it (them?)?

I have 2. I was standing on a chair and swung my arm back and hit the light bulb on a chandelier and burnt my arm. The second is above my eye, I wiped out when I was learning to walk and cut my eyebrow. I had to have stitches for that.
4. What is a food that you like to eat, but others might think it's gross or weird?

I like to mix cottage cheese, with black olives, pickled beets, and jalapeno peppers.
I ate it when I was pregnant with both of my children and I just love it.
5. Have you ever seen a tornado in real life?


Yes, I have seen a tornado.