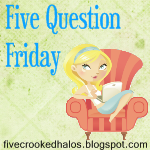 This post is linked to 5 Question Friday on
My Little Life
.
If you want to join in on the fun, you can answer the questions and leave a comment.
1. Did you have a favorite blanket or toy as a kid? If so, do you still have it?
When I was 2, I got a 12 inch Princess Leia doll. I loved and still love all things Star Wars. Yes, I still have her! She is a little rough but still has her original clothes and shoes!
2. Do you dream in color?
I think so. I rarely remember dreams.
3. How tall are you? Do you wish you were shorter or taller?
I am 5'9. Sometimes, I am funny about wearing high heels. Thankfully, I am never taller then my husband. Otherwise I probably would never wear heels.
4. If you could have anyone's (celeb or other) voice as the guide on your GPS, who would it be?
lol this question is funny! We just got a Tom Tom. You can get the voice of Star Wars characters to give directions. lol We really have Darth Vader.
5. Do you return your shopping cart to the corral or leave it wherever in the parking lot?
Most of the time, I try to be really courteous and return the cart to the corral. There are times though, when my children act like they belong in a cage and I just want to get home as quickly as possible. I will leave it wherever. Sometimes, I would just like to hook it to my car and tow it home. Just skip taking everything out of it.