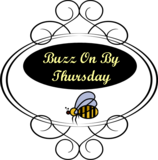 This week has been extremely crazy and busy! I am still having some trouble with my computer. At least I am able to post tonight, which is good.
My kids have been going to VBS this weeks. This is the first year that we have been able to go. Last year, it was held from 3 to 5:30. I am not sure who planned that time and what they were thinking. Not a very good time of day. Thankfully, this year its in the evening.
My son will be heading to the dentist next week. We found that he has a tooth coming in behind one of his baby teeth. I am so worried that his teeth will be messed up. Hopefully, everything will be ok.
Thanks for stopping and visiting!