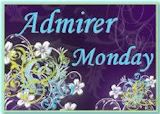 Welcome Monday Follows!
The question of the week from Monday Morning Follow Us is
Question of the Week: How did you get started with blogging?
I really kind of started it out of boredom in March. Then I got really into couponing and started posting stuff. I am still learning about blogging. Sometimes I feel like I don't really know what I am doing! I get frustrated because I don't feel like I am interesting enough to blog, but I keep at it.
Last week, we went peach picking! I have had a good time testing out some peach recipes. If you are interested check out our
peach/blueberry muffins
and
peach butter.
I am sort of celebrating my 1 year anniversary of being a
SAHM
! That has been a leap of faith and I still have some guilt about leaving my job. But, I really love the time with my kids.