Grim teacup from the movie


With the new Harry Potter movie coming out in just a few weeks, the excitement is building at my house. I love to recreate items from the Harry Potter movies. The movies are rich with magical and fantastic items.
Most of time, we use them as part of our Halloween decorations. There are a few items that manage to stay out all year long and make for great conversation pieces.
I thought I would share a little tutorial about making a Harry Potter Grim Teacup. This is a really inexpensive prop to recreate and it is easy for children to make. If you aren't really familiar with the movies or the books, the first mention of the Grim comes from book
The Prisoner of Azkban
. Harry learns that the Grim is an omen from Professor Trelawney's divination class.
The Grim takes the shape of a large, black, shaggy dog which is seen in the bottom of Harry's teacup.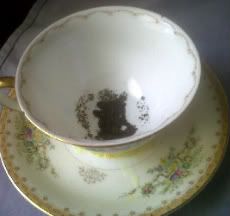 I picked up a great little teacup and saucer at my local Goodwill for $1. I was looking for something that I thought you might find at an English tea party. I was shocked when I found such a beautiful cup and saucer and my Goodwill.
Using 2 part Apoxy glue, I attached the cup and saucer together and allowed them to dry. Some of my apoxy seeped out so I have to go back and scrape it off. So be careful, you want to use a enough for it to stick together, but not too much to cause seepage. Also, if you are working with younger children, this is a step that you will want to do.
Then using a teabag and plain white glue I sprinkled the tea leaves inside the cup. I tried to create what looks like a dog howling on the inside.
I hope that you will give this a try! You can check out some of my other Harry Potter Tutorials :
Monster Book
and
Chocolate Frogs.
disclosure: These are not original props, they are fan made replicas made for personal use.