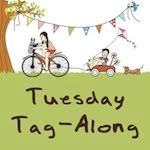 Welcome visitors from Tag Along Tuesday! The Squeaky Grocery Cart is my quirky vehicle of choice. A little bit of everything goes into the cart!! Coupons, freebies, crafts, family fan, green choices, and product reviews, its all in there.
This is my first time joining Tag Along Tuesday. This will be a great way to connect with other bloggers. I can't wait to find some great blogs.
Thanks for stopping by!