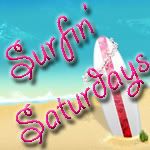 Welcome Saturday followers! College football season has officially started! Today's terrific tailgating recipe is for sliders. I love to make sliders. I actually got the
Big City Slider Station
. I don't really use it so much for cooking the burgers as I do for shaping the burgers. I actually prefer mine grilled.
In South Carolina, the huge college rivalry is the Carolina Gamecocks vs. the Clemson Tigers.
So in honor of the Clemson Tiger, this recipe is for Tiger Paw Sliders.
The Tiger Paw sliders are made with ground turkey breast and then topped with an Orange Relish. The orange relish has a nice vibrant orange color and little hint of purple from the onions. Clemson colors! It is a sweet and savory relish that compliments the turkey nicely.
Even if you aren't a Carolina or Clemson fan, these sliders are delicious! They are certain to please the hungriest of tailgaters.
Turkey Sliders
1 pound of ground turkey breast
1 tbsp grill seasoning
3 finely chopped scallions
1 clove of garlic, minced
1 egg yolk
salt and pepper
Mix all of the above ingredients together well. Shape patties, about 3 inches in diameter. Makes approximately 8 patties.
Grill approximately 4 minutes on each side. Cooking time may vary.
Orange Relish:
1/2 teaspoon grated orange peel
2 seedless oranges, peeled, sectioned and cut into 1/2-inch pieces
1 tbsp. honey
1 tbsp red onion, finely chopped
1 tbsp. fresh parsley, finely chopped
1/2 tsp. ground ginger
1/4 tsp. granulated garlic
a dash of pepper
Mix all ingredients in medium bowl. Cover. Refrigerate until ready to serve.
I like to serve these on a nice crusty dinner roll, with a little mayonnaise or dijon mustard, and orange relish. To finish, a small piece of Boston bib lettuce, and Monterrey Jack cheese complete the sliders.
If you missed out on some of my other Terrific Tailgating recipe posts, you can check out:
Grilled Pizza
,
Spicy Peach Chicken Wings
,
Weird and Wonderful College Mascots
,
Chips and Dip
, and
Terrific Tailgating Planning