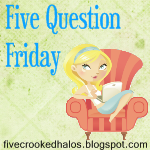 1.
How long does your Christmas tree stay up?
Our Christmas Tree stays up until New Year's Day. By then, I am done with it. I usually put it up a few days before Thanksgiving.
2.
Do you have plans for New Year's Eve?
We go over to a friend's house. We eat, the children play and the adults usually bust out Rock Band. I don't really care for New Years, so we keep it kind of low key.
3. Do you have any New Year's resolutions?
Not really, I am not really good at following through with them. I just prefer to take baby steps to make change.
4. How did you spend New Year's Eve when you were younger?
We never really did anything that exciting that I can remember. We usually would go out to dinner and watch the ball.
5. What was the best way you've ever spent New Year's Eve?
New Years, 2005. I had gotten the ok from my OB/GYN that everything was good after the birth of our son. You get the idea.