My family and I love the Harry Potter books and movies. Halloween is the perfect time to share some of our re-created props that we use around the house during Halloween.
I thought I would share a little tutorial about making a Harry Potter Grim Teacup. This is a really inexpensive prop to recreate and it is easy for children to make. If you aren't really familiar with the movies or the books, the first mention of the Grim comes from book
The Prisoner of Azkban
. Harry learns that the Grim is an omen from Professor Trelawney's divination class. The Grim takes the shape of a large, black, shaggy dog which is seen in the bottom of Harry's teacup.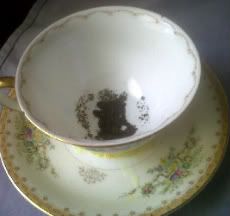 I picked up a great little teacup and saucer at my local Goodwill for $1. I was looking for something that I thought you might find at an English tea party. I was shocked when I found such a beautiful cup and saucer and my Goodwill.
Using 2 part Apoxy glue, I attached the cup and saucer together and allowed them to dry. Some of my apoxy seeped out so I have to go back and scrape it off. So be careful, you want to use a enough for it to stick together, but not too much to cause seepage. Also, if you are working with younger children, this is a step that you will want to do.
Then using a teabag and plain white glue I sprinkled the tea leaves inside the cup. I tried to create what looks like a dog howling on the inside. This project is easy to do in just a few hours.
The second project is one that I absolutely love and wanted to try to recreate one for our home. The Monster book is seen in
The Prisoner of Azkaban
. After some thought, I finally figured out how I would make it. This project is fairly inexpensive to make. I would say the grand total for the project is somewhere around $6 to $7. But some of the materials I already had on hand.
This is a list of materials you will need:
1 large book I used one of my old college text books that I still had. But, you could find something suitable at the Goodwill or other thrift store.
1 package of teddy bear eyes, These can be found at your local craft store, with doll making supplies.
faux fur, you will need enough to cover your book.
modeling clay
hot glue
gold and black spray paint
fake teeth I purchased a pair at the $ store for this project.
gold scrapbook letter stickers
Step 1.
Once you have selected a book, lightly spray paint the page edges gold. Allow time for those to dry.
Step 2.
Using the modeling, sculpt mounds for the eyes.
Step 3.
Cover the book with faux fur and use hot glue to hold in place. You will want some extra on the book opening side to create tentacles.
Step 4
. Make small holes to insert the eyes into place.
Step 5
. Create tentacles by by folding and gluing pieces together, cut off excess.
Step 6
. Lightly spray paint the faux fur black and allow for dry time. Apply the stickers to the fur.
Step 7
. Glue teeth into place.
It is not movie accurate, but you get the idea and looks great especially if you dress up as any of the Harry Potter characters. I hope you enjoyed this craft post. Please let me know if you make one for yo
ur family.
Lastly, no Harry Potter themed Halloween would be complete without some chocolate frogs. Here is a list of everything we used to make our chocolate frogs.
Equipment:
Microwave
Wooden spatula
1-2 Plastic Frog Molds ( I purchased a frog candy mold from Amazon.com. The mold I purchased makes 8 frogs at a time.)
Microwave safe mixing bowl
Ingredients:
One 12 oz. package of semi-sweet chocolate chips or a 12 oz. package of white chocolate chips,
rice krispie cereal
We melted the chocolate in the microwave. Check and stirring every 15-30 seconds until smooth and melted.
I used cooking spray to coat the molds. Then we spooned melted chocolate into the molds. I gently tapped the molding tray on the counter to remove any air bubbles.
After the molds were filled. We placed them in the refrigerator to cool. Once they were completely cooled, we popped them out of the mold.
We made another batch using the white chocolate chips and some fruity pebbles cereal for some extra color. We played around with the texture on these. We tried crushing the cereal and sprinkled it in the molds. Then we did more, where we crushed the cereal and add it to the melted chocolate.
The final result was a plate of chocolate frogs that any wizard would be happy to snack on.
disclosure: These are not original props, they are fan made replicas made for personal use.